Last Bar On Chart Indicator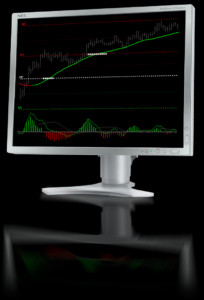 Platform Requirements: TradeStation 9.0
Support Documents: Indicator Guide
This indicator and a complete strategy guide is available to download as part of our free indicator pack.
Download this indicator for free:
We've all been there . . . You sit patiently awaiting an entry signal, completely focused on the unfolding price action. You've followed your trading plan to the letter. Your carefully tested setup is picture-perfect. . . Your entry criteria have been met, and you confidently hit 'buy' . . .
It's usually just a few seconds later that you realize you've entered a position in the middle of a five minute price bar that's still forming, and there's nothing to do but watch in horror as the bar begins to reverse. By the time the five minute bar actually closes, everything has changed – this entry signal definitely wasn't in your back-testing!
Nearly all screen traders have made this mistake at some time, becoming so engrossed in the screens that they forget to wait for the price bar to close before entering a position. The Delphic Last Bar On Chart indicator is a very simple tool designed to address this problem . . .
Indicator Features

The Last Bar On Chart indicator is a Paint Bar Study that colors the current 'live' candle or price bar on your chart.

You can set the 'live' bar to a color of your choice on the indicator's 'Inputs' tab. In the example on the right, the live bar is colored white.

If you want to know how many seconds remain before the bar closes, set 'CounterOn' to 'True' on the 'Inputs' tab, and a counter displaying the time to the close of the bar will be printed above it.

By adjusting the 'AlertSecs' setting on the 'Inputs' tab to a number greater than 0, an alarm will be triggered to alert you at the specified number of seconds before the bar closes.
If you make use of any kind of candlestick charting practices in your trading, then waiting until the close of the bar before taking action is critical. Though a five minute bar may be trading near its highs after a couple of minutes, by the close of the bar a clear shooting star could have formed.
" The amateurs open the market, and the professionals close it . . ."
Old Floor Trader Saying