It's not the indicator that trades the markets, it's you!
To get the most out of any indicator that you buy, it's absolutely vital that you understand how it works.
We're not talking about all the complex and impenetrable code – you can leave that stuff to us – we're talking about understanding what the indicator is designed to show, so that you can decide how to incorporate it into your trading for maximum effect.
That's why we've spent hundreds of hours writing and researching a detailed manual packed with countless TradeStation strategies for each of the Delphic indicator products. Better still, we've made all of these strategy guides available for download completely free of charge.
Download the TradeStation Strategies Guide
If you're really serious about improving your trading, then our information-packed strategy guide is essential reading.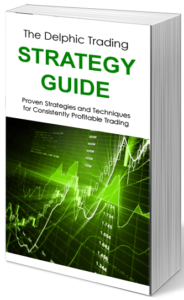 The guide includes detailed techniques for:
Trading trends, breakouts, and regressions to the mean, in a variety of timeframes.
Adapting indicator analysis and strategies to different instruments and market conditions.
Combining multiple strategies and building diversified portfolios to minimize risk.